Values
Honest, open, responsible and creative
Vision
To be the leading and most profitable global supplier of sustainable high-quality seafood
Financial information
Lerøy Seafood Group currently has a full, vertically integrated value chain within both redfish and whitefish, and is the leading Norwegian seafood company, and thereby one of the world's leading seafood corporations. The Group has a clear ambition to further develop this position in the years to come.
The Group's earnings in 2020 were lower than in 2019. This is mainly attributed to lower prices realised for the Group's products, due to the impact on demand of the restrictions laid down because of the global COVID-19 pandemic. Operating profit before biomass adjustments was down from NOK 2,734 million in 2019 to NOK 1,950 million in 2020. Despite a substantial fall in prices realised, revenue only fell by 2% from 2019 to 2020, evidence of strong underlying activities.
Associates represent significant value for the Group, demonstrated by the profit figure from associates, before fair value adjustment related to biological assets, of NOK 161 million in 2020. The corresponding figure for 2019 was NOK 198 million. The Group's net financial items for 2020 were negative at NOK 241 million compared with a negative figure of NOK 215 million in 2019.
Profit before tax and fair value adjustment related to biological assets was NOK 1,869 million in 2020 compared with NOK 2,718 million in 2019. Earnings per share before fair value adjustment related to biological assets and minority shareholdings totalled NOK 2.46 per share in 2020, compared with NOK 3.48 per share in 2019. The Board of Directors aims to recommend to the Annual General Meeting a dividend payment of NOK 2.00 per share in 2021.
The Group's dividend policy is to pay 30-40% of earnings as dividends. Historical figures for dividend recommendations bear witness to stable and increasing dividend payments over time. The dividend payment for 2021 recommended to the Annual General Meeting must be viewed in light of the former reports relating to dividend payment in 2020. The Annual General Meeting in 2020 adopted a dividend payment of NOK 1.50 per share, also mandating the Board of Directors to pay a further NOK 0.80 per share. The Board of Directors chose not to exercise this mandate, but also reported that the dividend payment recommended to the Annual General Meeting in 2021 will reflect this.
The return on the Group's capital employed before fair value adjustment related to biological assets in 2020 was 10.5% compared with 15.5% in 2019.
The Group is financially sound with book equity of NOK 17,633 million, equivalent to an equity ratio of 58.5%. Cash flow from operating activities for 2020 in total amounted to NOK 2,367 million, compared with NOK 2,859 million in 2019. Cash flows in 2020 are impacted by the Group having built substantial biomass in the sea. At year-end 2020, the inventory in volume in the sea was approx. 7% higher than at year-end 2019. Net interest-bearing debt was up from NOK 2,641 million at year-end 2019 to NOK 3,521 million at year-end 2020.
Net cash flow from investing activities in 2020 was NOK -1,354 million compared with NOK -876 million in 2019. Please note that right of use assets are not included in the cash flow from investing activities, as these assets do not generate any initial cash impact. Total investment in own and leased fixed assets from credit institutions totalled NOK 1,833 million in 2020 compared with NOK 1,460 million in 2019. Major individual investments made in 2020 include a new trawler in the Wild Catch segment (received from the shipyard in the first quarter) and the development of facilities for large smolt at Lerøy Midt and Lerøy Aurora. The Group has invested NOK 183 million in intangible assets in 2020, compared with NOK 2 million in 2019. The major share of this figure relates to the purchase of farming licence capacity from the Norwegian government.
In 2020, the Group paid dividends amounting to NOK 925 million, of which NOK 893 million from the parent company to the shareholders of Lerøy Seafood Group ASA. Corresponding figures for 2019 were NOK 1,273 million and NOK 1,191 million respectively.
The Group has a satisfactory financial position that supports its objective to retain its position as the leading Norwegian seafood corporation, thus remaining one of the leading seafood companies worldwide in the future.
The Group's statement of financial position totals NOK 30,163 million as of 31 December 2020 compared with NOK 30,189 million as of 31 December 2019. Over the past 20 years, the Group has based its growth on financial flexibility. The Board of Directors is of the opinion that such financial flexibility is an important factor for the ability to generate further profitable, organic growth, carrying out strategic acquisitions, establishing alliances and continuing the company's dividend policy.
The group's satisfactory financial position
substantiates the ambition to retain the position as the leading Norwegian seafood company and at the same time be one of the global leading seafood companies over the years to come.
The Group compiles its financial reports in accordance with the international accounting standards, IFRS.
The Wild Catch Segment
In October 2016, Lerøy Seafood Group obtained 100% ownership of Havfisk ASA (Lerøy Havfisk) and Norway Seafoods Group AS. As a result of this transaction, both companies were consolidated into Lerøy Seafood Group as of 1 September 2016. These companies comprise the Wild Catch segment. Norway Seafoods Group AS subsequently changed its name to Lerøy Norway Seafoods AS (LNWS) and Havfisk ASA to Lerøy Havfisk AS.
The wholly-owned subsidiary Lerøy Havfisk's primary business is wild catches of whitefish. Lerøy Havfisk has licence rights to harvest just above 10% of the total Norwegian cod quotas in the zone north of 62 degrees latitude, corresponding to around 30% of the total quota allocated to the trawler fleet. Lerøy Havfisk also owns several processing plants, which are mainly leased out to its sister company Lerøy Norway Seafoods (LNWS) on long-term contracts. Lerøy Havfisk's trawler licences stipulate an operational obligation for these processing plants.
Lerøy Havfisk took delivery of the new trawler, "Kongsfjord", on schedule in February 2020, and subsequently had 10 trawlers in operation in 2020. Experience of operations with Kongsfjord is positive.
Lerøy Havfisk's catch volume in 2020 was approx. 68,000 tonnes, up from around 62,000 tonnes in 2019. This increase is attributed to higher quotas.
LNWS's primary business is processing whitefish. The company has use of 12 processing plants and purchasing stations in Norway, five of which are leased from Lerøy Havfisk. LNWS is Norway's largest purchaser of whitefish from third parties, including from the coastal fleet. Symbiosis, or mutual dependence, is of decisive importance. The processing of whitefish in Norway has been extremely challenging for several decades.
The repercussions of COVID-19 have been negative for both the producer and the customer. There has been a substantially negative impact on market demand for fresh and conventional products in 2020. For 2020 in total, the segment contributed an EBIT of NOK 205 million, compared with NOK 293 million in 2019.
A number of improvement measures have been taken, and the Board of Directors expects to see an increase in earnings from this segment in the years to come.
The Farming segment
The Farming segment has locations in the three farming regions in Norway: Lerøy Aurora in Troms and Finnmark, Lerøy Midt in Nordmøre and Trøndelag, and Lerøy Sjøtroll in Vestland.
Earnings in 2020 have again been impacted by several unforeseen incidents, including challenges related to winter ulcers on fish for Lerøy Aurora. Despite this, there has been a significant improvement in production in the sea in 2020 when compared with previous years. In 2020, the segment harvested 171,000 tonnes of salmon and trout, up from 158,000 tonnes in 2019. In addition, the inventory of salmon and trout in the sea increased from 111,000 tonnes at year- end 2019 to 119,000 tonnes at the end of 2020. This represents a net growth of 7% in relation to inventory at the end of 2019, a positive development.
The increase in production significantly supports a falling trend in release from stock costs throughout 2020, although these costs for the Group's farming operations remain higher in 2020 than in 2019. The Group expects further growth in production to provide a reduction in release from stock costs in 2021.
Throughout 2020, the prices for Atlantic salmon and trout were significantly impacted by the effect the global COVID-19 restrictions had on demand. In total, prices realised for salmon and trout in 2020 fell by around NOK 4 per kilogram. The contract share for salmon for the Group's farming operations was 33%. Trout represented 16% of the harvest volume for the segment, and prices realised for trout were around NOK 9 per kilo lower than for salmon.
In total, the above had an effect on EBIT before fair value adjustment for Farming in 2020 of NOK 1,381 million, compared with NOK 2,065 million in 2019. These figures include an increase of 8% in harvest volume, but a fall in EBIT/kg before biomass adjustments from NOK 13.1 in 2019 to NOK 8.1 in 2020.
As already reported in relation to outlook, the Group has made significant investments in the past year in post-smolt operations, and expects that these investments, combined with other improvement measures, will contribute to an increase in harvest volume in the years to come.
VAP, Sales & Distribution segment
With its fully integrated, efficient value chain for salmon, trout, whitefish and shellfish, Lerøy Seafood Group shall be able to supply products that are best suited to the consumers' preferences. Proximity to key markets and knowledge of the customer's needs are therefore of decisive importance if the Group is to develop demand for its main products. Lerøy distributes more than 70 different seafood products from Norway to more than 80 different markets in the space of one calendar year. In addition, the Group processes and distributes a number of market-specific seafood products in their respective local markets where Lerøy has operations. Lerøy Seafood Group's value chain shall be developed further in order to satisfy and increase the consumers' total demand for seafood.
In 2020, the seafood markets have been negatively impacted by the COVID-19 pandemic. The impact was first evident in markets in Asia, spreading globally throughout Q1 2020 and into Q2 2020. The COVID-19 pandemic has had an effect on demand trends. The grocery market now represents a larger volume of consumption, while the hospitality and catering segment on many core markets has practically been closed down for long periods of time. The COVID-19 pandemic has also had an impact on logistics, particularly for overseas markets, with a reduction in cargo capacity resulting in increased costs during the period.
The main focus for the VAPS&D segment in 2020 has been to keep the value chain open. Throughout the second quarter, key markets showed a considerable level of improvement as the supply chain adapted to the change in consumer trends, with a much higher focus on groceries, but also as some parts of the hospitality and catering segment have gradually reopened. At the start of the third quarter, demand had improved considerably in comparison with the status in the middle of the second quarter. At the start of the fourth quarter, we once again experienced an increase in restrictions on key markets, with a significant impact on demand. At the same time, we are pleased to note that demand continues to be as strong as it is, and that the value chain has proved to be very adaptable. This gives grounds for an optimistic outlook once the pandemic is over and the restrictions are lifted.
Despite significantly lower prices realised for key species, the segment reported revenue in 2020 that was only 3% lower than in 2019. This is a clear indication of a high level of underlying activities. In recent years, the Group has implemented substantial initiatives for improvement of several of the units in the segment, including facilitating better interaction along the Group's value chain. The Board of Directors believes there is high potential for increased earnings in this segment. In 2020, operating profit before fair value adjustment related to biological assets was NOK 475 million – in principle, in line with the figure reported in 2019 of NOK 480 million.
Associates
Associates represent substantial values for the Group. The most important associates are Norskott Havbruk AS (50.0%), Seistar Holding AS (50.0%) and Seafood Danmark (33.3%).
Norskott Havbruk AS owns Scottish Seafarms Ltd, one of the largest fish farming businesses in the UK. In 2020, Scottish Seafarms harvested 24,000 tonnes of salmon, down from 26,000 tonnes in 2019. Operating profit before fair value adjustment related to biological assets was up from NOK 292 million in 2019 to NOK 308 million in 2020. The company's new RAS facility for production of smolt was completed in the autumn of 2019, and is expected to make significant contributions to increased production in the years to come. The estimated harvest volume for 2021 is 36,000 tonnes gutted weight.
Well boat company Seistar Holding AS is an important supplier of services to both Lerøy and other aquaculture businesses, primarily in the region of Vestland. The operating profit figure in 2019 was positively impacted by the gain of NOK 82 million on the sale of an older vessel, part of Seistar's fleet renewal programme. Operating profit in 2020 totalled NOK 52 million, compared with NOK 116 million in 2019.
Seafood Danmark is a Danish company, where the Group currently owns one third of the shares, but where agreements have been signed entitling and obliging Lerøy to purchase the remaining outstanding shares. Developments have remained positive in 2020, and Lerøy currently expects to gain controlling ownership in 2021.
We have more than 2,500 solar panels at our new factory, so our production methods support a sustainable world.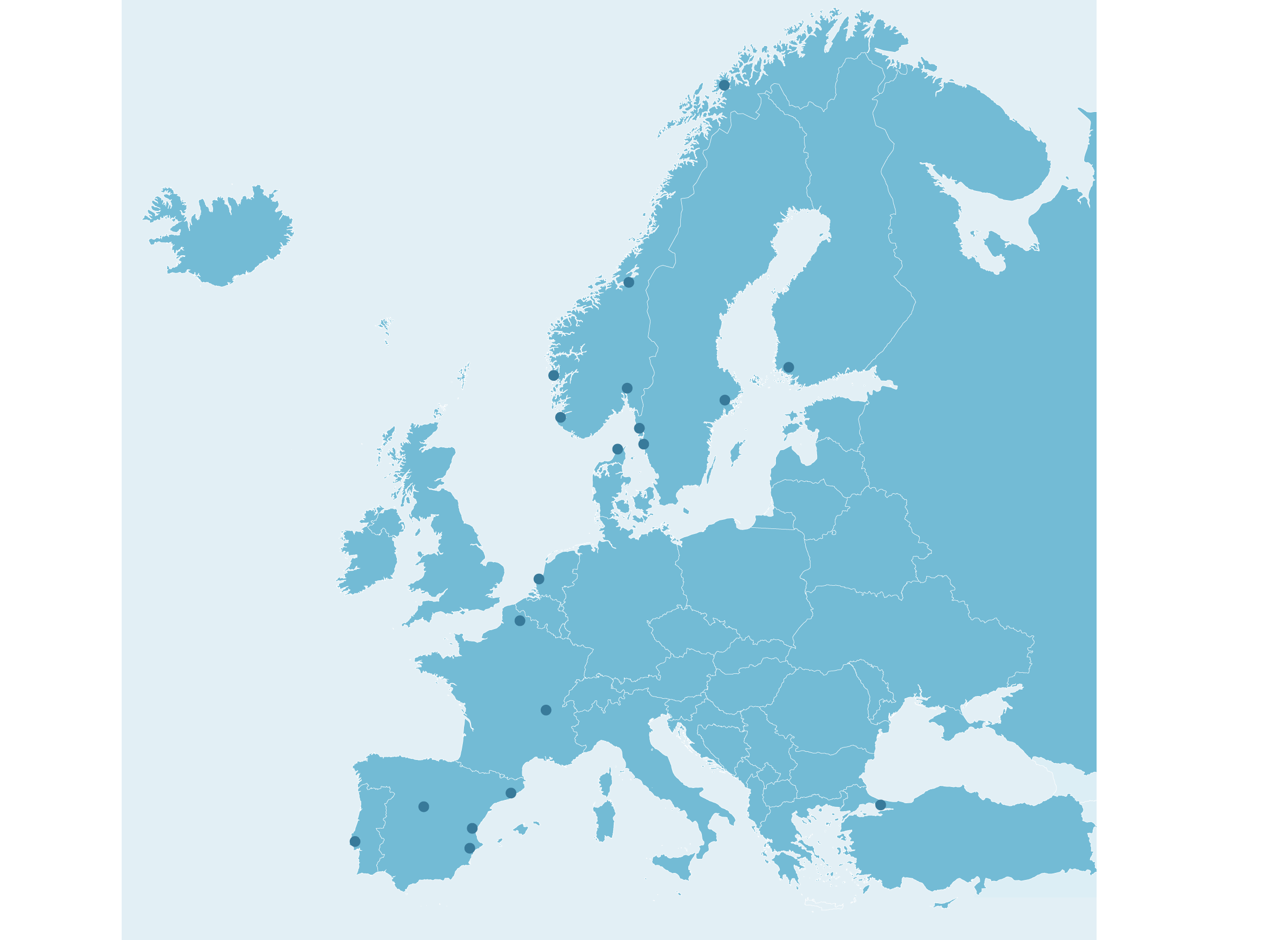 The map displays the location of our downstream operations/distribution centres for seafood (in central seafood markets)
The world's most efficient and sustainable value chain for seafood.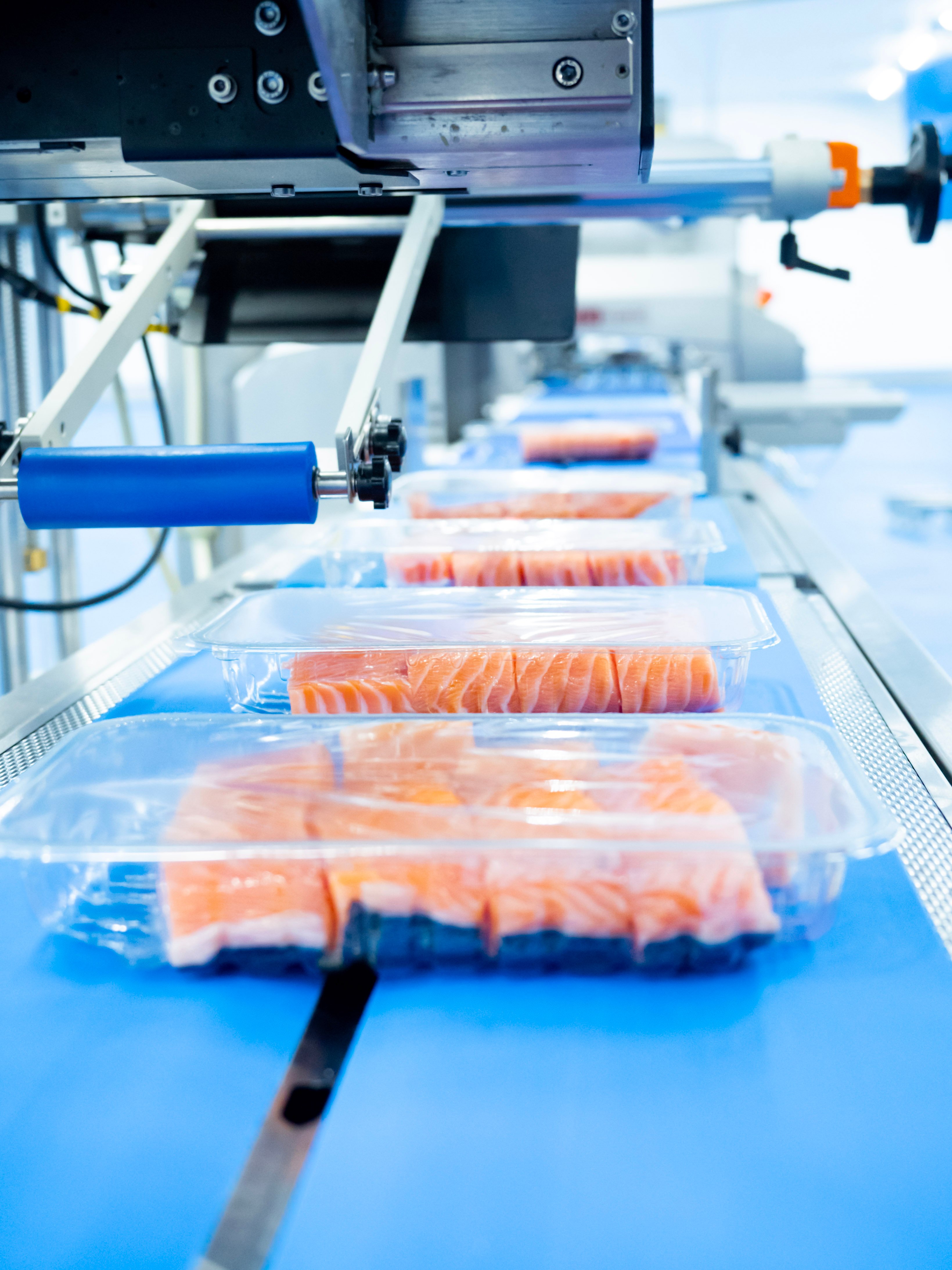 At every part of the value chain, from roe and smolt production via farming to production and distribution of products, we make every effort to ensure our operations are as sustainable as possible. This allows us to guarantee efficiency, quality and food safety at every part of the value chain, so that you can enjoy safe and delicious seafood.
Risk management
Good risk management is of decisive importance if the Group is to successfully achieve its vision of being the leading and most profitable global supplier of sustainable, high quality seafood. Our ability to understand risk is crucial, both preventively but also to ensure that we are in a position to create new opportunities and innovative solutions.
Risk management is an integral part of our corporate governance, and is performed at various levels in the Group. A thorough risk analysis comprising descriptions of strategic (S), financial (F) and operational (O) risk lays the foundations for our strategic efforts.
Key risk factors
Below is a list of the most significant risk factors for Lerøy
Structural conditions
The Group aims to generate lasting value through its activities. For this reason, stringent requirements are imposed on risk management and the ability to plan for the long term in the development of sustainable strategic business processes.
Through organic growth and a series of acquisitions carried out since the Stock Exchange listing on 3 June 2002, the Group is now one of the world's largest producers of Atlantic salmon and trout. The acquisitions of Havfisk ASA and Norway Seafood Group AS in 2016 have made the Group the largest supplier of whitefish in Norway and a major supplier worldwide. In recent years, the Group has also developed and consolidated its position as a central actor in the distribution of seafood in Norway and other major international markets. The Group plays an active role in developing the value chain for seafood, with an increasingly large global reach. The Group's objective in the medium to long term is to create the world's most efficient and sustainable value chain for seafood. Dialogue based on trust, collaboration with strategic customers and a focus on efficiency for our own value chain will allow us to generate solutions that are both cost-efficient and innovative for our end customers.
Lerøy Seafood Group's investments in the Norwegian whitefish sector are based on an industrial, perpetual perspective. The industrial facilities are based and reliant on raw materials from the Group's own trawlers and from suppliers in the coastal fleet. The symbiosis between the onshore industry and the coastal fleet is strong and represents a high level of mutual dependency. Appropriate framework conditions, including predictability, are absolutely decisive to allow us to successfully assume our responsibilities as an industrial organisation. The whitefish sector fluctuates according to seasons and requires vast amounts of capital. We firmly believe that we will only be able to build a sustainable industry and create attractive jobs if we have appropriate framework conditions, investment capacity, product development and access to the global market. Our collaboration with public administration has been positive throughout the difficult situation we have experienced in 2020, with a major focus on identifying good solutions. We hope this collaboration can develop further, aiding us in creating new jobs and creating value in the decades to come. We are highly interested in dialogue, and assume that any future adjustments to framework conditions will be based on knowledge and insight, preventing impairment of the industrial foundations for operations for our industry.
In recent years, the Group has made major investments in facilities for smolt production, in order to ensure the Group's global competitiveness from a long-term perspective. These investments not only provide an illustration of capital requirement, but also the level of knowledge needed for our advanced food production. To succeed, Lerøy and the organisation's employees need knowledge, capital, market- related and globally competitive framework conditions.
The Board of Directors believes that the Group's many years of investing in vertical integration, building alliances, developing high-quality products, entering new markets, quality-assuring its value chain and building its brand will enable it to continue to create value moving forward. The Group will continue its work to deliver sustainable value creation via strategic business development, operational efficiency improvements and employee training. This work will generate growth and, based on customer requirements, ensure continuity of supply, quality and cost efficiency, paving the way for increased profitability. Improving operational efficiency at all stages is an ongoing process aimed at further strengthening the Group's competitiveness nationally and internationally.
The Group's financial position is very strong, and it remains important for the Board that the Group, through its operations, retains the confidence of participants in the various capital markets. The strong balance sheet and current earnings enable the Group to pursue its clear ambition to remain a leading participant in value-generating structural changes in the seafood industry, both nationally and globally. Lerøy Seafood Group will continue to selectively consider possible opportunities for investments, mergers and alliances that could strengthen the basis for further profitable growth and sustainable value creation. This applies to investment opportunities both upstream and downstream. The Group aims to continue with its strategy for growth, made evident in the growth achieved in 2020 and the organic growth projected for the years to come. This requires the Group to continuously develop and improve its performance in all segments throughout the value chain.
Being listed on the Stock Exchange affords the company a marketplace for its shares, good future access to venture capital as well as opportunities to use the company's shares as a means of settlement in future acquisitions or business combinations.
Shareholder information
As of 31 December 2020, the company had 15,227 shareholders compared with 10,520 shareholders at the end of December 2019. Austevoll Seafood ASA is the company's main shareholder and owns 313,942,810 shares. This corresponds to a shareholding of 52.7 %. In total, the company's 20 largest shareholders own 74.3% of the shares in the company at 31 December 2020. LSG owns a total of 297,760 (0.05%) treasury shares.
The share price for Lerøy Seafood Group ASA has fluctuated between NOK 45.00 and NOK 64.00 in 2020. The share price at the start of 2020 was NOK 58.30 and NOK 60.56 by the end of the year.
The company plans to hold its Annual General Meeting on 26 May 2021. The Board of Directors intends to recommend a dividend payment of NOK 2.00 per share in 2021.

Employees
The parent company Lerøy Seafood Group ASA has its head office in Bergen, Norway. In 2020, the Group had 4,912 employees, of which 3,120 were men and 1,792 women. Of these, 1,345 work outside Norway. In 2020, the ratio of female employees was 36.5%, slightly up from 2019.
Independent of the demand for equal opportunities for men and women, the Group has always placed decisive emphasis on individual skills, performance and responsibility in its recruitment policy and salary systems. Furthermore, the Group at all times ensures equal employment opportunities and rights for all employees, and works hard to prevent discrimination based on national origin, ethnicity, colour, language, religion or personal philosophy. One of the company's goals is to provide a workplace without discrimination because of disabilities. For employees or work applicants with disabilities, the company will arrange for individually adapted workplaces and work tasks where possible.
The company is a player in a global industry and the company's working environment changes continuously. This requires flexible employees who are dynamic and willing to adapt and learn.
2020 was a particularly difficult year, with restrictions relating to the COVID-19 pandemic requiring major changes to the normal working day for our employees. Based on our position in the food supply chain, Lerøy Seafood Group is defined as an essential business in Norway, and we are proud to confirm that our untiring efforts in 2020 allowed us to keep the value chain open, securing supplies of products to our customers and food to consumers.
Special situations require extraordinary measures, and are a test of the organisation's capacities. The Board of Directors is proud of the achievements of the Group's employees, and would like to praise them for their untiring work, creativity and willpower in 2020. It has been an exceptional year, during which Lerøy has remained strong.
Health, safety and the environment
The Group maintains a strong focus on procedures and compliance with these, and on measures to protect all employees. This is a perpetual process moving us forwards to our vision of zero injuries. Total sick leave registered in the Group in 2020 was 6.51 %. This is up from 5.2% in 2019, and the development must be considered in light of the global COVID-19 pandemic, which has had an impact on most of 2020. Sick leave comprises 3.81 % long-term sick leave and 2.69 % short-term sick leave. The Board is pleased to observe that the Group, together with the employee representatives, works actively and systematically to keep sick leave low. The organisations in the individual subsidiaries are continuously being developed to ensure that they can deal with new challenges and changes in framework conditions. The working environment and cooperative atmosphere are good.
On 6 February 2021, one of our companies experienced the worst possible accident. At the subsidiary Lerøy Norway Seafoods AS' factory in Stamsund, one employee died in an accident at work. This was a tragic accident that has had a vast impact on the company and will continue to do so for a long time.
After the incident, Lerøy Seafood Group has assisted and will continue to assist the police and other public agencies in identifying how this tragic accident occurred.
Our thoughts are with the families and colleagues of the deceased.
External environment and climate
The process of developing an efficient value chain for seafood that reaches all the way to the end customer has afforded Lerøy close interaction with end customers. This interaction has always been important, but – given the ever-increasing focus on sustainability – the Group now finds that this interaction is more important now than ever before.
2020 represents a clear shift on many markets, with general requirements on sustainability becoming increasingly important for what products the consumer decides to buy. These are continuing trends for which the Group established a strong position early on. Lerøy's vertically integrated value chain affords a unique potential to highlight sustainability as a competitive strength. The increased focus on sustainability combined with the Group's perpetuality perspective substantiates Lerøy's decision to maintain a focus on the climate and environment.
Lerøy believes that the consumer's increased focus on sustainability represents a significant opportunity for Lerøy, the seafood industry and Norway as a whole. Food production from Norwegian aquaculture plays an important role in finding ways to feed the growing worldwide population in the future. In this context, both businesses and political authorities bear a huge responsibility to exploit such opportunities. To achieve this, common sense and knowledge must prevail in the years to come and it is, not least, essential to communicate correct information to the consumer.
The Group's operations are based on resources produced in freshwater and in the sea. Any considerable impact on the production/catches of fish along the Norwegian coastline and in the North Atlantic caused by climate change, irrespective of origin, could potentially affect the Group's operations and earnings. The Group's marine fish farms are located in areas where temperatures and currents could change. However, as long as the Gulf Stream remains the same, it is most likely that the Norwegian coast will remain highly suitable for seafood production in the next decades. In relation to the Group's whitefish catches, a change in sea temperatures could result in changes in catch volumes for the species on which Lerøy Havfisk has based operations.
Focusing on the climate will be particularly important moving forwards, and Lerøy aims to contribute towards cutting greenhouse gas emissions by taking responsibility for own emissions throughout the value chain. Lerøy has therefore established ambitious climate goals based on science. The Group shall cut its greenhouse gas emissions by 46% by 2030 in relation to the base year, 2019. Lerøy has taken the prerequisite measures to meet increased requirements on reporting of greenhouse gas emissions in the years to come, and is also actively involved in ensuring that our customers are able to achieve their goals in this area.
CO2 taxation will have an impact on all types of food production in the years to come. The Group has installed battery and hybrid propulsion on its most recent trawler. However, the technology required for zero fossil fuel propulsion systems for large vessels has not yet reached a sufficient stage of developmentto represent an alternative. The Group is closely monitoring developments and is involved in various collaboration projects in this area.
With its production of Atlantic salmon and trout, the Group is a globally competitive and sustainable food producer – something very rare. The Group was therefore delighted to note that this has not only been measured according to the UN's sustainability criteria but was substantiated last year, once again, in an international survey of sustainability conducted by Coller FAIRR.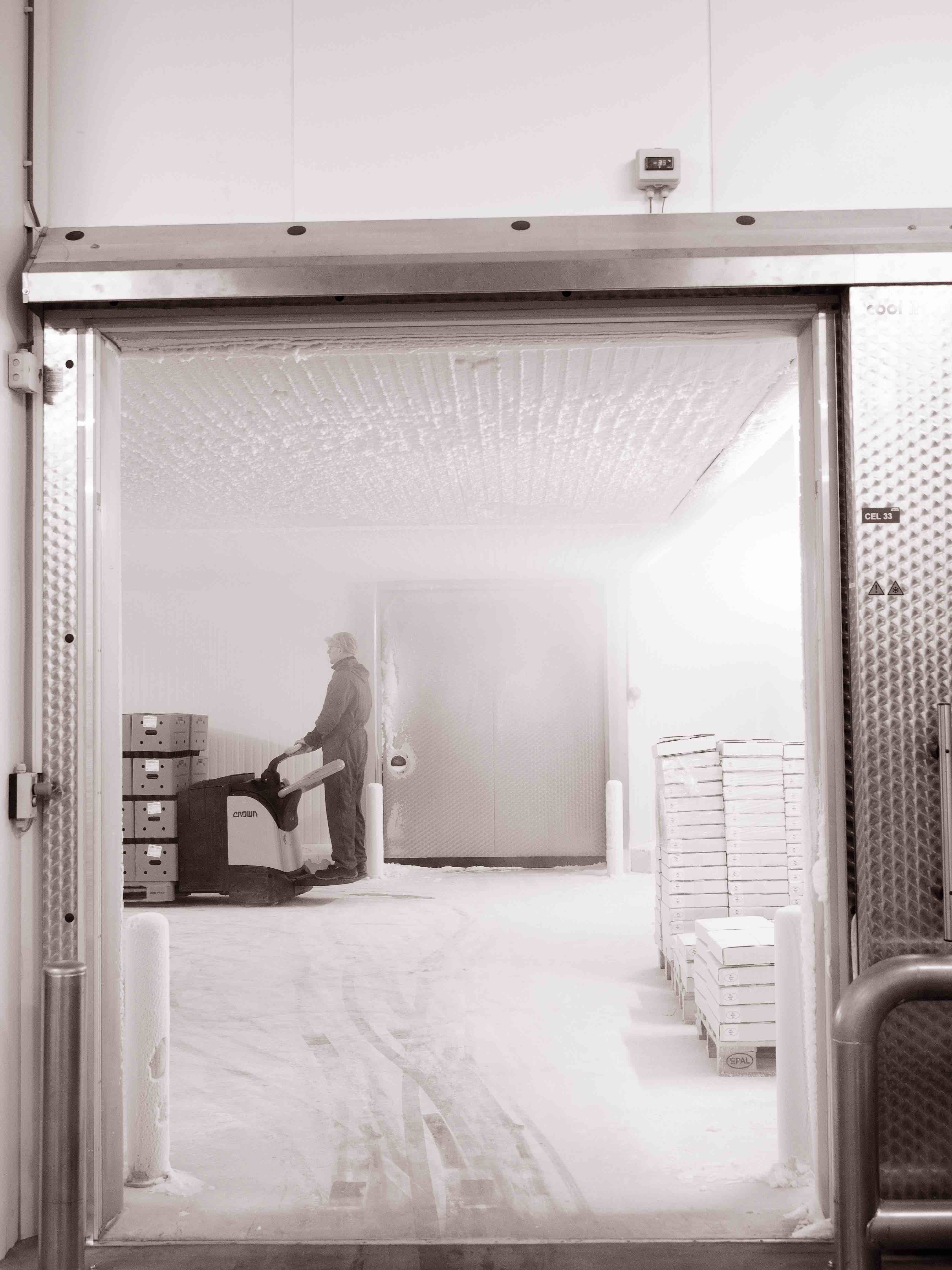 Safety first. Lerøy shall be a safe place to work, and our products shall be safe to eat.
All food production has a carbon footprint. Our production is competitive in terms of sustainability, and it is important not to forget this in our efforts to improve. The Group does not plan to rest on the laurels of the industry's strong position, but aims to take active measures to reduce the "footprint" of the Group's activities.
The Group's operations are closely linked to natural conditions in Norwegian and international fresh and salt waters. Operations rely on access to clean fresh and sea waters The footprint for our localities is closely monitored with continuous evaluations, known as MOM investigations. The Board and management are of the opinion that operations in 2020 were climate and environmentally sustainable and were conducted with a competitive footprint. This is supported, not only by the Group's comprehensive sustainability reports, available in the Group's sustainability library at www.leroyseafood.com, but also in several national and international reports on fish farming and fisheries. The Group operates from a perspective of perpetuality, invests in minimising its impact on the external environment, and continuously works hard to encourage both management and employees to maintain sound attitudes towards the environment.
Result and allocations, Lerøy Seafood Group ASA
The company and the Group's financial statements are submitted on assumption of going concern. In 2020, Lerøy Seafood Group ASA reported an annual profit after tax of NOK 569 million, against a comparative amount of NOK 1,695 million in 2019. The Board aims to propose the following allocation of the 2020 annual profit (NOK 1,000):
> A figure of NOK 2.00 per share has been allocated for dividend payment, totalling NOK 1,191,547.
> From other equity: 622,981
> Total allocations: 568,567
The Group's parent company has a strong financial position with a book equity ratio of 85.2 %. The parent company has access to satisfactory financing and liquidity, corresponding with the Group's strategy and operating plans.
Market and outlook

Price developments for Atlantic salmon have been highly volatile in 2020 also, substantially influenced by the ripple effects of the COVID-19 pandemic. The first months of 2021 have also been significantly affected by the negative impact on demand of the COVID-19 pandemic restrictions, but the underlying market is strong, with high sales volumes via grocery chains. It is not possible for the management and Board of Directors to form any precise opinion on the duration or consequences of the pandemic, but the growth in volume on the grocery market does provide grounds for optimism. There are indications that seafood is gaining in popularity with consumers, and we are therefore optimistic with a view to the underlying future developments for seafood.
The Group's production of redfish currently takes place mainly in Norway. Norwegian and global salmon and trout production are experiencing relatively modest growth, which – combined with a weaker Norwegian krone – has resulted in very high prices. This provides an incentive to start production of salmon in new areas using alternative technologies. These incentives have existed for several years now, but with long lead times in the industry, Norwegian production in marine fish farms has maintained its predominant position. The harvest volume from land-based production of salmon remains insignificant on the end markets. The market share for Norwegian Atlantic salmon may, in the long term, be affected by production of salmon and trout in new regions and locations. Through business development, investments and a clear operational focus on competitiveness, the Group shall ensure that its value chain stands strong in the face of competition in the years to come. In addition to the development of existing farming operations, the Group is accumulating knowledge and/or competencies within both land-based and offshore-based salmon production.
In recent years, Lerøy has made significant investments in several parts of the value chain, including the construction of facilities for smolt/post-smolt capacity in all the Group's regions. Lerøy Sjøtroll's Kjærelva facility is now completed and has an annual biomass production of around 4,000 tonnes. Lerøy Aurora completed the final construction stage of a new development in Q4 2020, and the facility is expected to reach full exploitation in 2021. Lerøy Midt can report that the developments to the Belsvik facility are going to schedule. The plan is for completion by the start of 2022, and the facility is expected to produce around 5,000 tonnes of biomass. The Group's investments in improved smolt production and post-smolt production, combined with a number of other initiatives, will support the Group's ambition for continued growth in volume and increased competitiveness by means of a reduction in production costs.
The Group's substantial investments in post-smolt facilities have not only increased the Group's annual harvest volume by means of improved exploitation of existing assets, but also provided significant competencies within RAS technology. This is in the main the same technology applied for full-scale land-based production of salmon. The Group is now negotiating a further development of a new RAS facility in the region of Vestland. The plans are initially to develop the facility in three modules. The first and second modules represent further increases in the Group's post-smolt production. The final module will also provide facilities for post-smolt production, but may also be used for salmon production up to harvest size. The location of the plant, including the links to the Group's farming operations in West Norway, could potentially provide successful interaction between sea and land. The lessons learned may, if preferable, be alternatively exploited to realise land-based projects in other regions. The development will take place in stages, but initial estimates indicate that the first three stages will represent estimated costs of around NOK 1 billion. The development is projected to provide an annual increase in production in the sea of 8-10,000 GWT. Construction work is scheduled for completion in 2023.
The Group can report significant improvements in production in the sea in 2020. The harvest volume is up from approx. 158,000 tonnes in 2019 to 171,000 tonnes in 2020. Moreover, standing biomass has increased from 111,000 tonnes at year-end 2019 to 119,000 tonnes at year-end 2020. The Group maintains its projections of a harvest volume for 2021, including associates, of 205,000-210,000 tonnes. Ongoing investments and additional improvement initiatives will provide further growth in the years to come.
As a new middle manager with experience from a different industry, it's fun to work for an organisation that so warmly welcomes input so they can at all times make sure they choose the best solutions.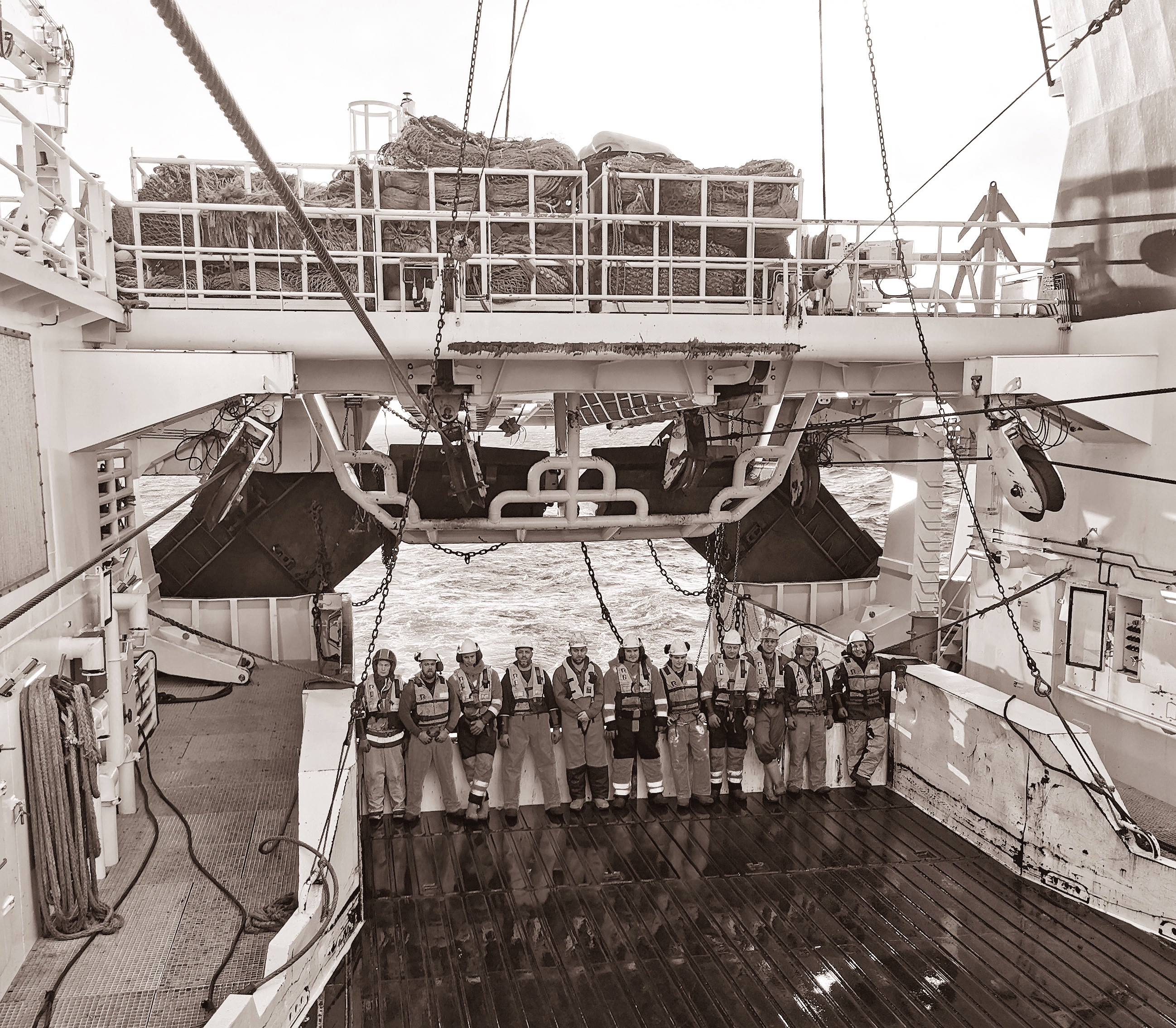 When the cargo ship "Wilson Parnu" had engine failure south-west of Telavåg on the island of Sotra near Bergen, in the pitch dark of a November night and in rough seas, the crew onboard "Nordtind" came to the rescue in an impressive show of strength. The efforts of captain Frank Bye and the rest of his crew on the Lerøy Havfisk trawler were described as "fantastic", "heroic" and "excellent seamanship" by the Joint Rescue Coordination Centre.
For the Group, the aim is clear – for this growth, combined with other improvement measures, to provide reductions in the Group's release from stock costs for salmon and trout in 2021 and the following years.
The Group has recently made substantial investments in whitefish. One new vessel was added to the fleet in 2018 – Nordtind – and another in early 2020 – Kongsfjord. Further improvements to fish quality were established as important design criteria for Kongsfjord. Consumers' expectations and quality requirements continue to increase, making high quality and competitiveness key factors for success when competing to attract consumers.
The whitefish industry, also including land-based operations, has suffered significantly from the impact on demand of the COVID-19 pandemic in 2020. It is naturally not possible for the Group to know how long the restrictions will last, but Lerøy's long-term plans remain the same. The work on and investments in making the factories less reliant on seasons continue, along with well-organised and meticulous work on making improvements to each unit. We believe that this process will generate results with time.
For 2021 the quota development is as follows; 17% increase for cod, 22% for haddock, 17% for saithe north of 62 degrees. For saithe south of 62 degrees, the Group projects a reduction in the quota of 43%.
Lerøy works to develop an efficient and sustainable value chain for seafood. This not only provides cost-efficient solutions, but also quality, availability, a high level of service, traceability, and competitive climate-related and environmental solutions. Investments in recent years in, e.g., a new industrial facility for Lerøy Midt, a new factory in Stamsund and new factories in Spain and the Netherlands, now commissioned, will represent a positive contribution in the years to come. The management and Board of Directors are confident that Lerøy has a good starting point for continued profitable growth and development of Group operations.
The Group's products are healthy and good. Production is financially, climate-related and environmentally sustainable. The management and Board of Directors continue to expect good underlying growth in demand in the years ahead. It is not possible for the management and Board of Directors to estimate how long the COVID-19 pandemic will last, but we are confident in assuming that demand will with time return to historic levels and continue to develop from there.
The Board of Directors underlines that uncertainties related to assessments of future developments are much higher than normal, but current estimates are for earnings in the first half of 2021 to be negatively impacted by the effect on demand of the COVID-19 restrictions. At the same time, the Board is of the opinion that the Group's underlying development is positive, and that Lerøy has an excellent position for improved profitability in the years to come.
The Board of Directors and corporate management would once again like to thank all the Group's employees for their hard work to date during the COVID-19 pandemic.