Several thousand metres of plastic have been replaced with living kelp at Lerøy Vest's fish farms. The kelp provides shelter for the cleaner fish in its sea cages.
"I think that the salmon and cleaner fish prefer living kelp", says Kjetil Heggen, who has responsibility for cleaner fish at Lerøy Vest.
In partnership with Ocean Forest, Lerøy Vest has just embarked on a project which it hopes will confirm whether or not this is true. They are already seeing several benefits from replacing the plastic with kelp.
"Cleaner fish are comfortable and safe in the plastic shelters, but we have noticed that they prefer living kelp given a choice", says Kjetil.
This has been observed by comparing the two types of shelters in the same cage. Not surprising, perhaps, as living kelp is the oldest type of shelter for cleaner fish: it is what was used by the original cleaner fish, which were caught in the wild.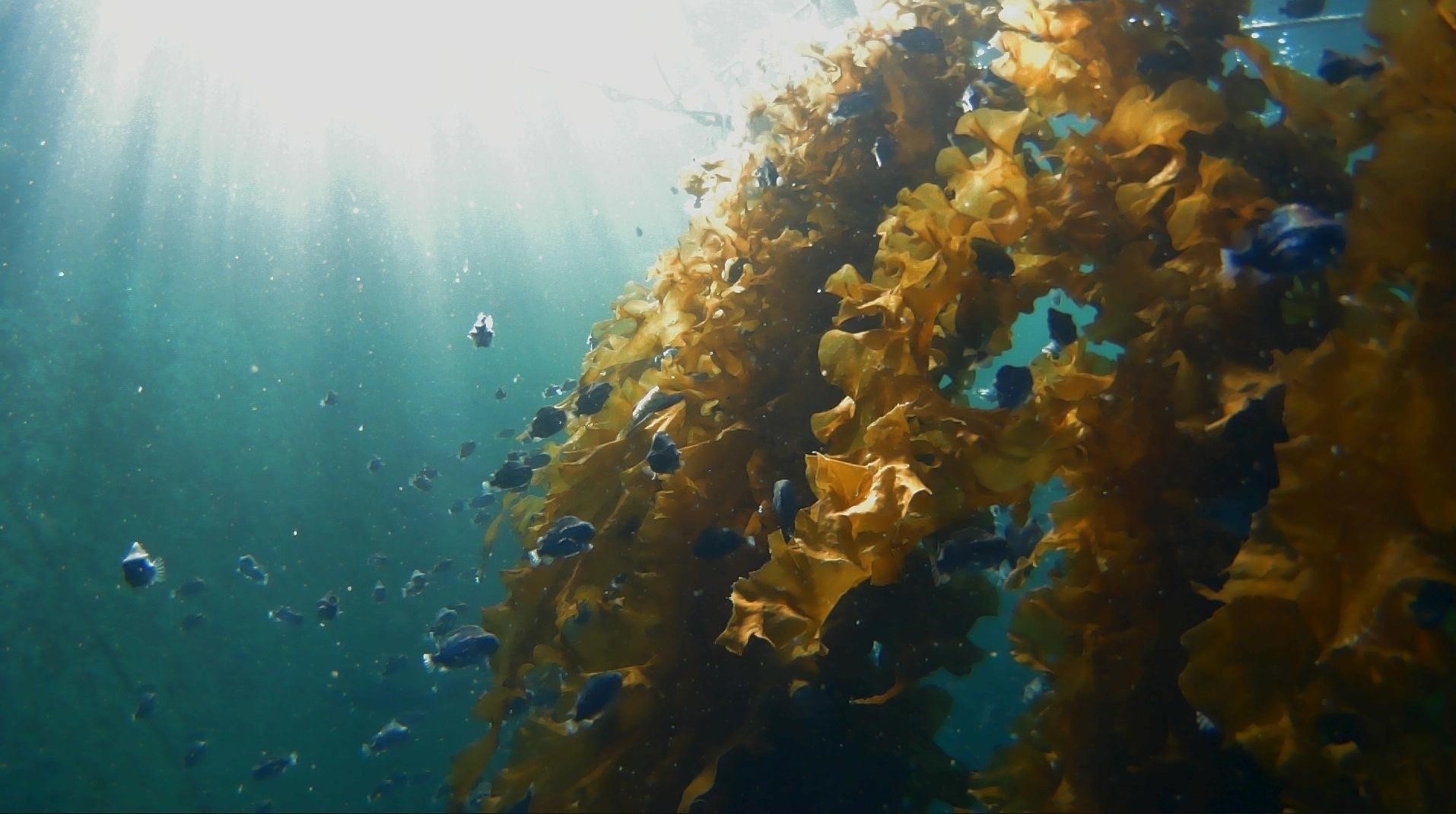 Shelters are vital
Regardless of what the shelters are made of, they are vital to the cleaner fish, which need a peaceful and dark place that they can withdraw to for a break now and then. They also perform their job as lice-eaters better if they have these shelters.
"When we receive new cleaner fish, they immediately seek shelter. It's about finding a safe point of reference in a big cage. That also helps to reduce their stress levels", explains Kjetil.

Since Lerøy started using cleaner fish, it has also begun using shelters. There has been massive progress in this area over the years: from simple strips along the wall of the cage, to circular shelters and shelters consisting of large panels with a corridor. Experience has demonstrated the benefit of making the shelters horizontal, rather than vertical, so that the current can more easily flow past the shelters without dragging them with it. Unlike the plastic shelters that are currently imported from China, the sugar kelp is also available locally. It comes from Ocean Forest's facility on the island of Reksteren in Tysnes, so it only has to travel a short distance.
"Cleaner fish shelters made of sugar kelp are not only far more sustainable than plastic ones, there are also strong indications that the health of the cleaner fish improves if they have natural kelp shelters to swim around in. The shelters are completely natural and biodegradable, unlike the plastic shelters that we currently use. You would have to look long and hard to find a more sustainable shelter", says Ocean Forest's production manager for kelp cuttings, Sunniva Tangen Haldorsen.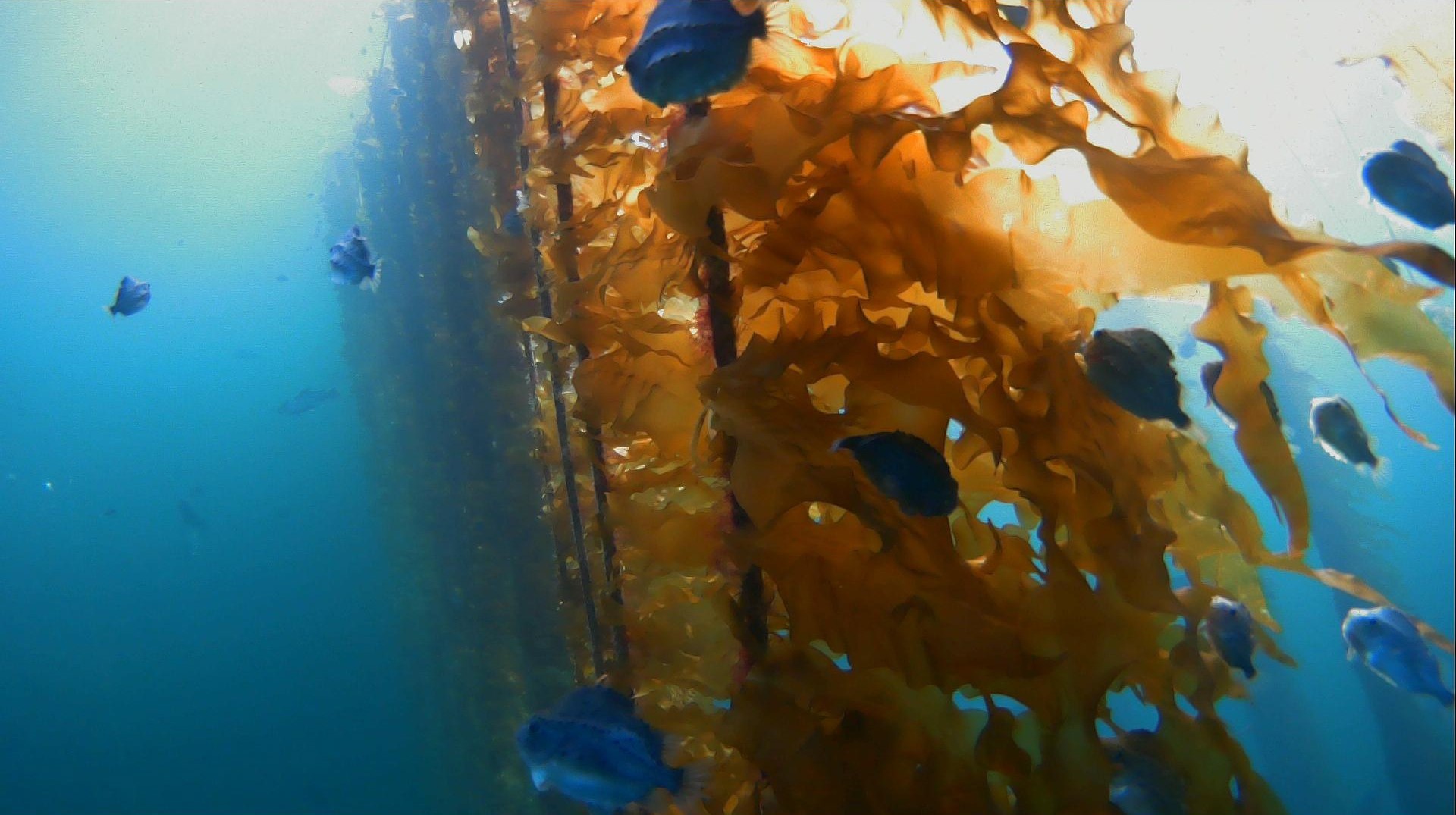 Need less maintenance
Another problem with using plastic shelters is that epiphytes quickly start growing on them when they are in sea cages. Epiphyte is the general name for plants and other organisms that grow on other materials. This makes it necessary to take the plastic shelters out of the water every week and dry them completely before putting them back in again.
"If you don't do this, the cleaner fish start grazing on the epiphytes instead of on the salmon lice", says Harald Sveie, the Managing Director of Ocean Forest.
Epiphytes also grow on living kelp, but to a much smaller degree. The plastic therefore requires more maintenance. In addition, the plastic balls need to be washed regularly, which can lead to microplastic emissions. Microplastics are small particles of plastic that contribute to pollution.
"We deliver the shelters to a petrol station where they are washed and rinsed, to ensure that there are no microplastic emissions", says Kjetil.
When Lerøy's plastic shelters are no longer fit for use, they are sent to Nofir for recycling, but it is still important for Lerøy to cut out as much unnecessary use of plastics as possible, so natural cleaner fish shelters are preferable.
Challenges remain
Nevertheless, there are some challenges associated with the natural kelp. The current project uses sugar kelp, which is fast-growing. The kelp grows naturally from autumn to spring, which in practice means that the kelp shelters need to be replaced, as the salmon stay in the cages for 14 to 22 months before being slaughtered.
"We are doing research on other species that may have a longer lifespan than sugar kelp, because we would like to find a species that could be kept for a whole generation of fish. I believe we will get there", says Kjetil Heggen.
Another challenge is summers. When the temperature rises, there are so few nutrients in the sea that the kelp starves and dies back.
"But as it is inside the sea cages, we hope that it will do better than wild kelp. That is part of the experiment", says Harad.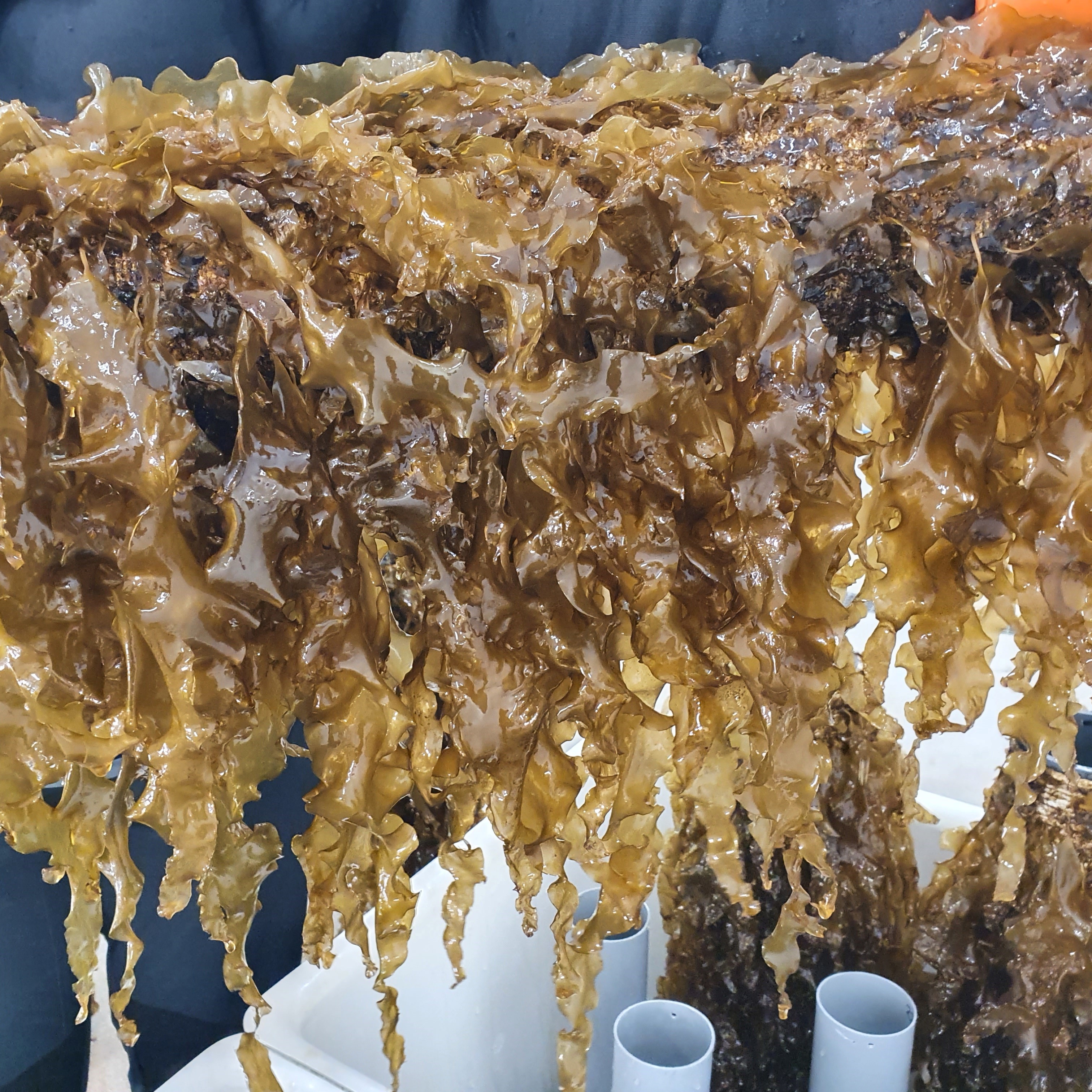 Circular use
Another challenge relates to Lerøy's desire to achieve circular use of the kelp. Lerøy Vest is working to find new uses for the sugar kelp after it can no longer be used as a cleaner fish shelter and has been taken out of the cages. The kelp will be harvested in May or June some time, depending on the water temperature.
"We are trying to find somewhere it can be reused, but we haven't got there yet", says Peder Kolbeinshavn of Lerøy Vest, who is responsible for this area.
Particularly the epiphytes growing on the kelp make it difficult to find a new use for it, as they prevent it from being used in food products. Nevertheless, Peder believes that they will find a solution sooner or later, and in the meantime the kelp only requires inorganic nutrients from sea water and sunlight.