Recycling cages to make clothes and blankets
Have you ever looked at a fish farming cage and thought: "I could wear that or decorate my living room with it"? Probably not, but you might just change your mind when you read this!
In this age of sustainability, recycling is of increasing importance so that we leave behind the smallest possible eco-footprint. And what could be better than giving something you no longer use to someone who can create something new from it, for example old fish farming nets.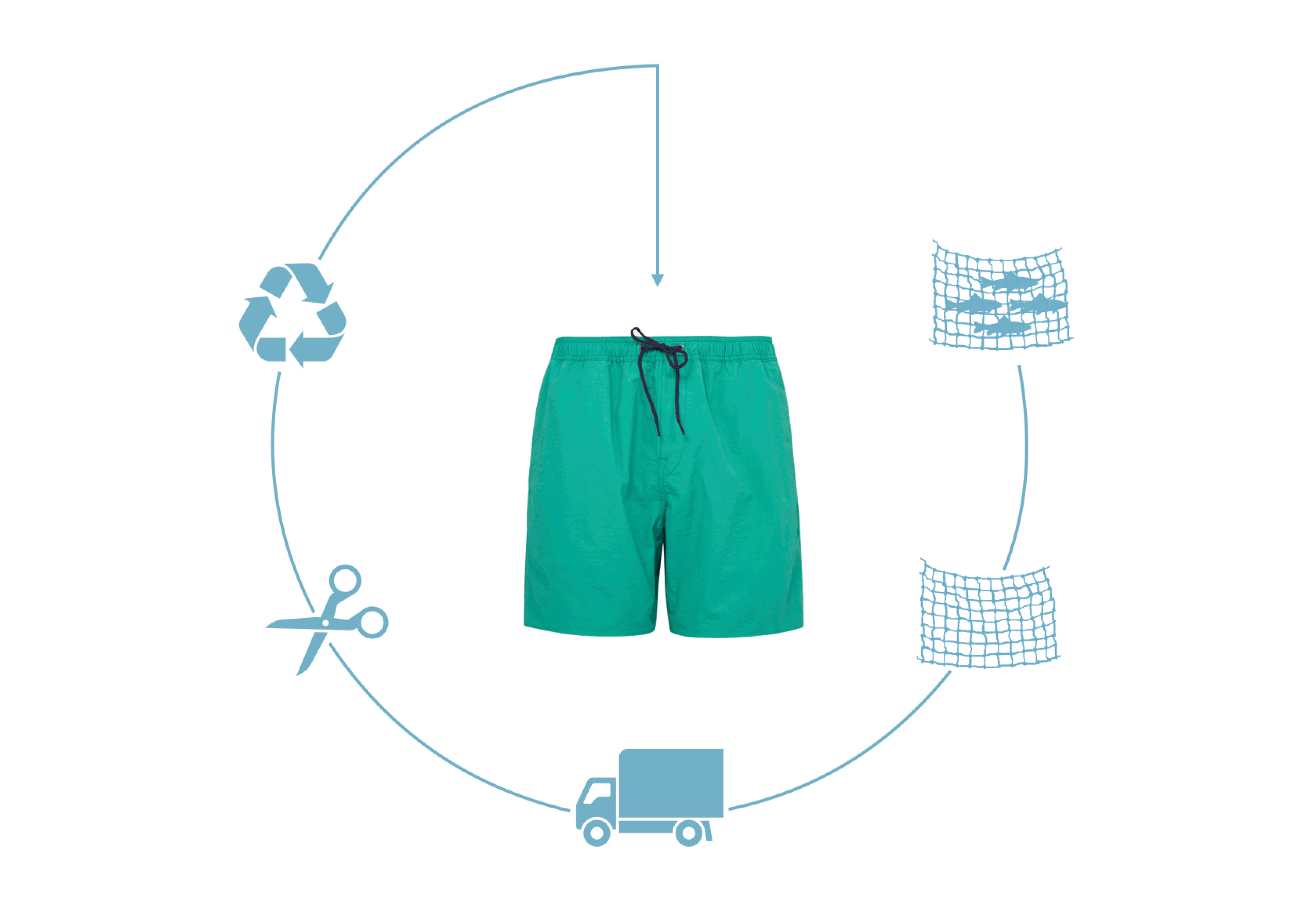 The goal is to reuse and recycle this material eternally, bringing new life to what is currently classed as waste.
Innovative nylon
After use, our fish farm nets are handed over to Nofir, a company that collects discarded fishing tools from the fisheries and fish farming industry in Norway and Europe. These are washed, sorted and passed on to Aquafil in Italy, where it gets processed to Econyl - and nylon product extracted from plastic waste from the sea.
Collaboration with the clothing industry
Dressmann in Norway is one of the companies that has used this nylon product in its production. In the shop you will find both jackets and swim shorts made of old fish cages and nets. Clothes you can wear every day, which are as good as any other clothing, and do not compromise on design or quality. The best of both worlds. It's possible to look stylish while thinking about the environment.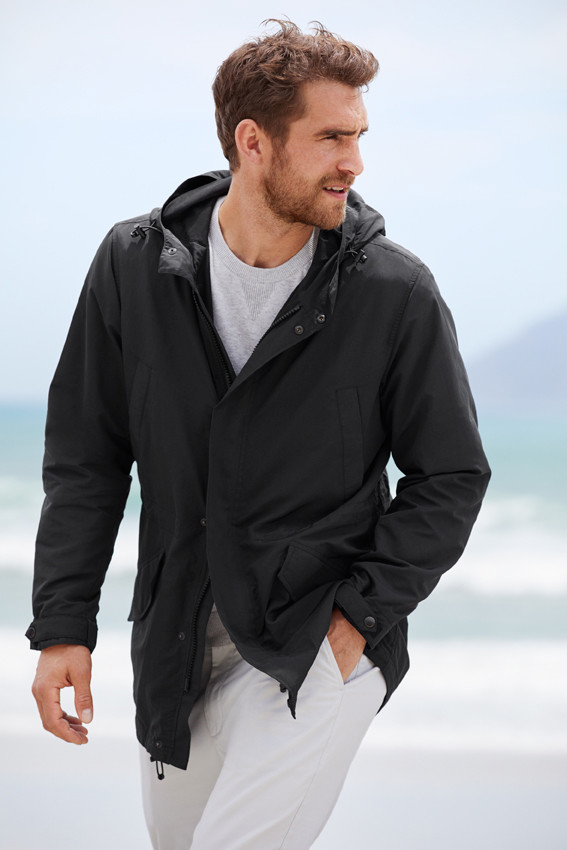 This jacket is from the Econyl collection launched by Dressmann last year. It's difficult to imagine that these were once used nets in the fishing and aquaculture industry. Photo: Oscar Falk
So, if you are interested in style, smart innovation and a green lifestyle, you may be able to wear clothes and furnish your home with products that have a long history from Norwegian fish farming, years before they arrive in the shops as textiles or blankets.
Lerøy has submitted 930 tonnes of nets for recycling.
This saves the environment for new production equivalent to 1500 tonnes of oil.
1 tonne of nylon can make 24,500 pairs of ECONYL® socks or 10,000 swimsuits.
According to ECONYL®, regenerated nylon has a lower climate footprint than virgin nylon of up to 80 percent.
Econyl intends to be recyclable indefinitely.
Focus on recycling
In all industries, it is important to think about the environment and sustainability. For Lerøy, this is perfectly natural. Where you travel, you also clean up, and in this collaboration with Nofir this goes hand in hand.
- Lerøy place sustainability efforts high and wants to be able to recycle or reuse as much as possible. We therefore think it's great that we can recycle our fish cages in this way. This is also a good example of circular economy, says Anne Hilde Midttveit, quality and sustainability manager at Lerøy Seafood Group.
Conscious decision
By becoming a little more aware of the choices we make, several of us can easily act more environmentally friendly. If you choose Econyl over other fabrics, you also help to recycle already produced plastic. In other words, you can shop more sustainable the next time you buy new clothes. The material used in Dressmann's clothing is made with the intention of being recyclable forever.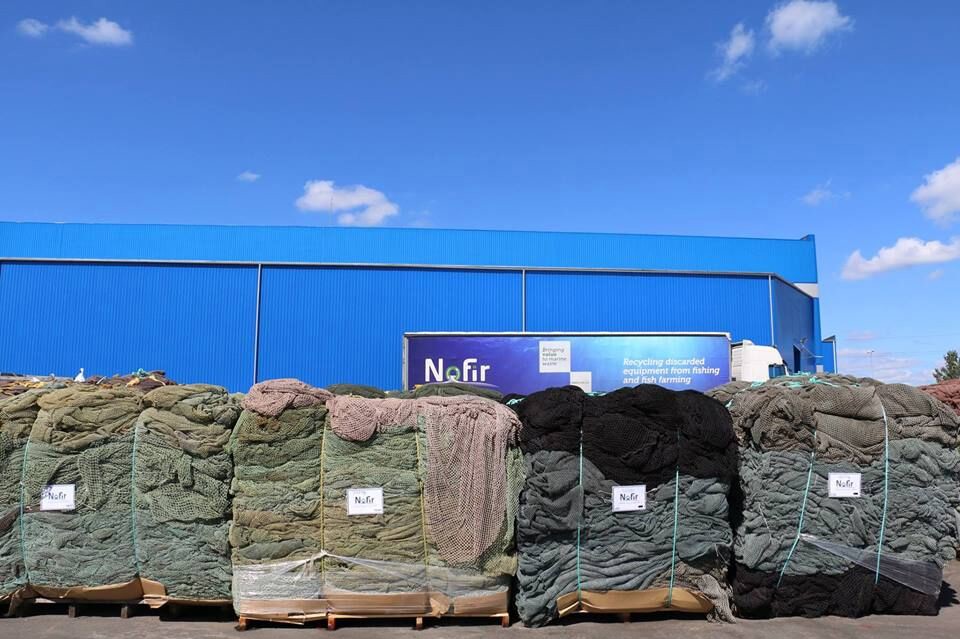 Nets on the way to their new "life" in the closet. Photo: Nofir
Nylon is one of several artificial fabrics that release microplastics into the washing machine when washed. Therefore, it is extra important to think long term. New clothes release most microplastics, so choose quality over quantity and try to repair before buying again. You hardly need to wash your clothes as often as you do either.
The manufacturing process of ECONYL® is "kinder" to the environment. For example, it uses much less water and leaves much less waste than in traditional nylon production, which is made from oil. The material is sustainable in the sense that it is a recycled material and that it is being worked on to replace traditional raw-nylon when it comes to the production of clothing and other necessary products.
Nylon is not biodegradable, and it is estimated that up to 40% of man-made plastic waste in the oceans are nylon. It goes without saying that a material that can reduce this is welcome.